While a few homeowners are beginning to move away from the long standing trend of open floor plans, most buyers are still choosing the open concept. Abundant natural light is important, with views and access to outdoor spaces. It is critical that privacy for the now dominant home office space be included, either on the main floor or the multipurpose area above the garage. In today's environment, the need for high-speed internet, and integrated technology throughout the home has never been more essential. Not only is it important for entertainment and lifestyle issues like ordering groceries and all sorts of consumer goods, but it is critical in our "work from home" world.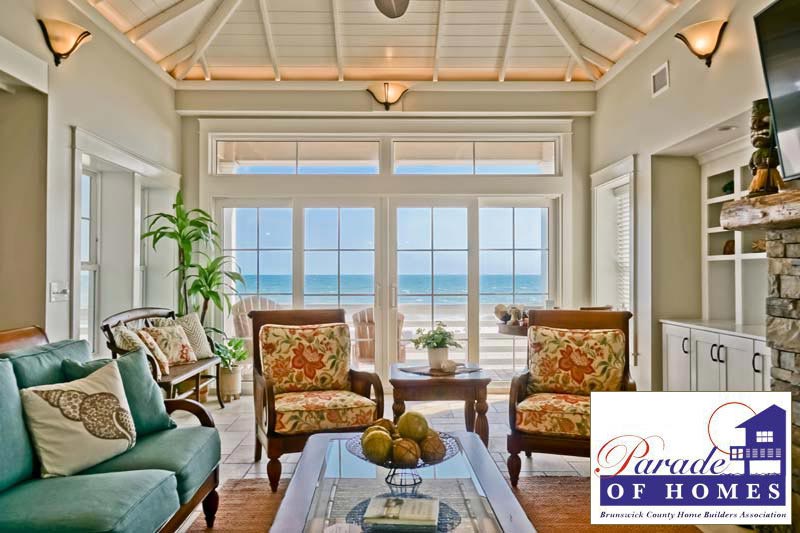 Mark Saunders Luxury Homes® designed and built an open floor plan with stunning ocean views and we are extremely pleased that the Hodges family is allowing us to feature their unique Holden Beach oceanfront home in this year's Brunswick County Virtual Parade of Homes. The virtual tour is available now through Sunday, Oct 25, 2020. To start your tour click on the video below. The home and furnishings are unparalleled – do not miss the tour!
After being cooped up in your home for the last few months, many of you are getting serious about your relocation plans to southeastern North Carolina. Spending time in your current home has inspired you to generate the wish list for your new residence. When the time is right for you, Mark Saunders Luxury Homes is here to support and service new and existing clients.
Mark Saunders Luxury Homes supports virtual consultations for both new home construction and renovations; all selections and consultations can be accomplished remotely. At our Design Center and on our new home job sites we are taking the necessary precautions to ensure the health and safety of all clients and staff. We always adhere to the highest standards of cleaning and have also implemented additional "cleaning sweeps" throughout the day.
Mark Saunders Luxury Homes is here to assist you and to keep you updated on new home tips and trends. Should you have any questions regarding new home construction, or renovations, please call us at 833-765-8200 or contact us via email:
Mark Saunders Luxury Homes
making luxury affordable