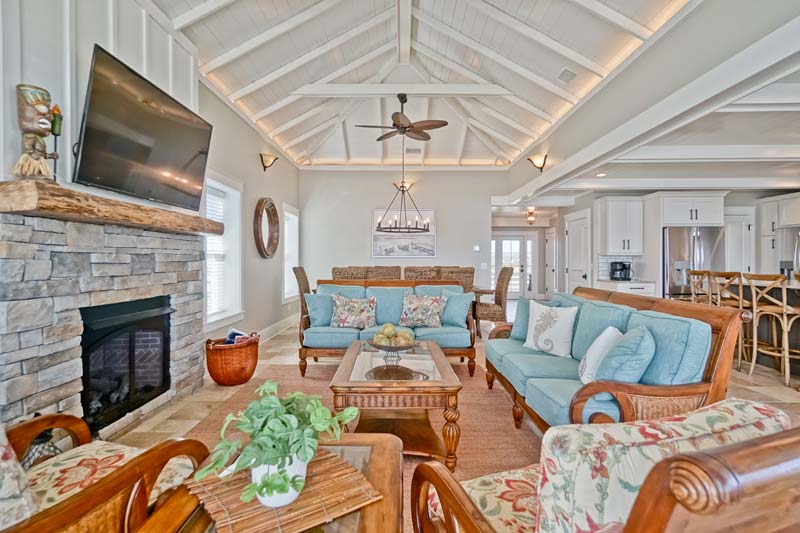 Today's Market: Demand has skyrocketed.
Most of those in the workforce are increasingly able to live anywhere; as they seek the safety of less urban areas, with lower taxes, and a more relaxed lifestyle. In most cases buyers are able to get more square footage and outdoor space for the money in SE Coastal North Carolina.
This demand led to increased prices and scarcity of materials like lumber, windows/doors, shingles, and appliances; resulting in an upward trend in the time it takes to build a custom home. Mark Saunders Luxury Homes® has been in business for more than 35 years, our experience puts us in the BEST position to help you navigate this market.
Impact of COVID on Home Design:
To many, home became everything when stay-at-home became the norm; all of sudden many of us had the ability to work from anywhere. We found ourselves filling multiple needs under one roof. More time spent at home means we want larger and/or a different home, a different floorplan. At Mark Saunders Luxury Homes® we have found that the best designs are those that demonstrate how open floor plans and defined spaces can exist in the same home.
Most of our clients want a "Zoom Room" or Home office; at least one office space is a must have (a minimum of 64 square feet). Perhaps a Flex Space for a second office that doubles as a small Guest suite (a minimum of 150 square feet). Locating the home office near a front or side entrance of the home is ideal if the owner expects to have occasional client visits. Otherwise, almost anywhere that space becomes available. Privacy, soundproofing, natural light, backdrop for Zoom calls are all important elements. The Home Office needs to function well while also looking good on camera.
Communication is key, so high speed internet is a critical need. Use of a Wi-Fi "Mesh" system provides strong/reliable Wi-Fi for both the interior and outdoor spaces of the home. Abundant devise charging stations are a must.
Since we are using our homes more for work, cooking, and recreation there are additional amenities that have become impotent. Add a "second" kitchen, i.e., a prep area within the pantry. Luxury Ultra-Spacious Master bath with spa features (steam shower, upscale shower fixtures, music). An Exercise Room with gym equipment, and additional storage space. Larger garages providing storage space for essential supplies and non-perishables.
Perhaps most important of all, we need "sanctuary spaces"; during this time, we crave a space to decompress. Outdoor spaces have always been popular in Coastal SE North Carolina and have become increasingly so during and following the pandemic. These include Water Views, Golf views, Nature Views. Firepits, old growth trees, lush landscaping, pools, fountains, and water features. A sunken fire pit provides built-in seating while offering shelter from prevailing coastal winds. Outdoor Kitchens are the most requested outdoor amenity.
In Coastal SE North Carolina outdoor spaces are utilized 9+ months of the year.  Attractive and functional outdoor spaces have the added benefit of increasing the value of the home. During the last year-plus, there has been a huge surge in dog adoption,  more and more homes have dogs (and cats).  We need to plan for pets in our home design.  Most of our communities or municipalities provide access to Dog Parks.
Increased Demand for Health & Safety at Home:
"Home" means "safety", especially during these uncertain times. Social distancing and avoiding of large crowds will be with us for some time, consumers are focusing on ways to improve their at-home experience and expand the space in which they live.
Access to outdoor space and being able to social distance with neighbors on the porch or deck, is a lifeline when coping with the shelter in-place experience. This provides the optimal combination of socialization, relaxation, recreation, nature, and fresh air. Privacy has become increasingly important when designing outdoor spaces, increasing the use of fences and landscape walls. Use of outdoor structures such as pergolas, arbors, benches, planters, privacy screens and trellises are growing.
Buyers want a home with better in-home health care and wellness features. We are disinfecting more; we want germ -resistant countertops and flooring and features related to hygiene and safety; touch-free faucets, appliances, and smart toilets; touchless entry to the home.
Additionally, many owners want a "Smart Home" with cameras, touchless voice assistants. alarm systems, smart locks, and high-speed internet. They want whole house dehumidifiers, steam cabinet for dry-cleaning clothes, radon monitoring, Leak detection hardware, a whole home water filtration system, and a whole home generator.
People are extremely sensitive to air circulation. So how about the humble ceiling fan? One of the most requested features in Coastal Eastern NC, it easily dispels any notion of stagnant air. Lexington Kentucky's Big Ass Fan Company now can equip their fans with UV-C lighting, known for killing COVID viruses according to the CDC.
In addition to cooking odors and off-gassing from products, indoor air can be contaminated by nitrogen dioxide, a by-product of cooking with gas stoves that (according to the EPA) is occasionally produced at unhealthy levels.
There are new advances that provide better quality ventilation, such as a Whole House Air Cleaners or Advanced HEPA air filtration system, to filter dust and allergens.  HVAC UV lights are effective at controlling mold inside the air handler, as all mold in line of sight of the UV bulb will be killed, keeping the coil mold-free.  Several studies point to the effectiveness of UV light in killing mold and bacteria. One of the latest invocations is an automated ventilation system from Panasonic, the Cosmos Healthy Home System; it syncs with sensors placed throughout the home.  When a sensor detects a drop in air quality, the relevant bath fan or kitchen exhaust automatically exhausts the poor-quality air.
Living in Place:
Baby Boomers are leading the trend towards designing homes for the older generation to live out their "golden years", as comfortably and as independently as possible. "Aging in Place."
A "forever home" design should begin with a First Floor Master bedroom and a plan with minimal or no stairs. It should have zero-threshold entries, 36" wide doors and48" wide hallways to accommodate wheelchairs, walkers, or scooters.
The kitchen should include Custom Cabinets; Uppers for less used items, Lower cabinets with drawers for are easy to access dishes, pans, etc. Appliances should include an easy to access microwave drawer, raise the dishwasher by 12" to make it easy to load & unload, a French door double oven, and a smart cooktop.
The Master Bath design should include a 36" wide shower entry that's curb-less with wet and dry areas, the shower controls to be close to the entry with pressure-balanced valves, hand-held wands, and grab bars. Comfort height toilet, with a GFI outlet behind the toilet for nightlight and bidet seat. Radiant heated bathroom floor.
Electrical should include rocker light switches, occupancy motion-sensing light switches for closets, panty, laundry room. Smart switches or smart outlets for lighting selected areas of the home.
A well-lit driveway leading to a secure ample size garage, with more storage, especially for food, water, and essential supplies.
The home should be framed with trusses which allow for fewer interior walls and provide for blocking should future patient lifts need to be installed. All of our communities or municipalities provide access to health and wellness facilities.